Production Campus at World Standards!

Dollvet production campus is located on a 36.000 sqm of land including 15.000 sqm of closed area and develops continuously.
With its technical infrastructure, Dollvet is one of the top 20 facilities in the world accepted by the international authorities in the field of biotechnology.
Despite of producing only for animal health now, it has the potential to produce biological products in many fields including human health thanks to its technical infrastructure.
Operating at world standards, this facility has been designed specifically to fulfill the conditions of working, storing and keeping in line with product requirements.
Parameters are ensured with the HVAC system, such as GMP clean area class, particle counts, temperature, humidity, pressure difference and air change rates that are necessary for critical areas.
Water, HVAC systems, Heating, Cooling parameters are monitored with SCADA systems. In case of deviation, changes are adjusted in a computer environment by a user authorized for access where necessary, and records and trends of all operations are kept.
Entrance to and exit from the building by personnel are controlled by eye recognition system and card pass systems and all operational processes are tracked with CCTV systems.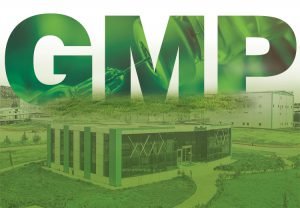 Main units that constitute closed areas of the production campus are as follows:
Raw Material and Product Storages
Management and Administration Building
R&D Center
Heating Center and Technical Areas
Social Areas
Archive
Livestock Unit
Experimental Animals Unit
Donor Animals Unit
Vial Filling & Formulation Unit
Lyophilized Vaccines Filling & Lyophilization Unit
Liquid Waste Decontamination Unit
Production Laboratory of Fungus Vaccine
Quality Control Laboratory
Production Laboratory of Inactive Sporophyte Bacterial Vaccines
Production Laboratory of Bacterial Vaccines
Production Laboratory of Parasitary Vaccines
Production Laboratory of Attenuated Live Vaccines
Production Laboratory of Inactive Viral Vaccines
Production Laboratory of Hyperimmune Serum
Production Laboratory of Inactive Nonsporing Bacterial Vaccines